A new version (0.9) of GridInstrument is out. It features:
– Ability to set the MIDI velocity level to a fixed value.
– Ability to set the MIDI velocity to random value within a range (for example, random between 95 and 105, to give a more natural feel).
– Ability to set row overlap/offset like on Launchpad Pro – you can find this in the Layout menu.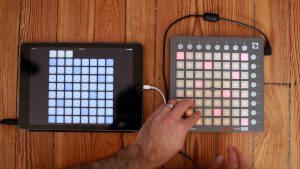 GridInstrument is an iOS app that lets you play your iOS device like a musical instrument. Instead of a piano keyboard, notes are arranged on a grid (much like the Ableton Push or scale-mode on a Launchpad Pro).
One of the coolest features of the app is that you can hook up your Ableton Launchpad controller directly to it (using the Apple Camera Connection Kit) and it will let you play your Launchpad like a musical instrument. Here's a video of the Launchpad tethering functionality:
The app has a simple sound generator built in, but where it really shines is in its ability to output MIDI data. It has Audiobus 3 support so that you can send MIDI to other apps. It also has Core MIDI out support so that you can send notes to outboard hardware or even to a Network MIDI connection. Here's a video showing how to connect it to a Moog Little Phatty:
Features:
Change octaves
Change keys
Choose from over 20 musical modes ("Major, Minor, Dorian, Mixolydian, etc.")
Choose between two grid layouts ("Diatonic 4th" and "Chromatic")
Core MIDI out so that you use GridInstrument to control your other instruments
Audiobus 3 support
Launchpad integration (connect your Launchpad Mini in low-power mode without a hub or any other Launchpad with a powered hub)
OK. That's it. Enjoy!
– Dave
For the past eight months, I have been working on an iOS game based on the photography of Eadward Muybridge. As of this week, the game is now in the App Store. Since my quiet soft-launch earlier this week, it has already been downloaded more than five thousand times!